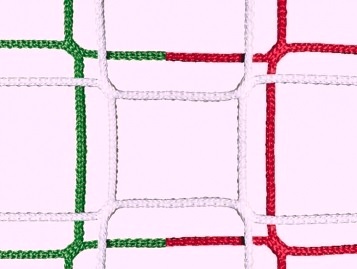 Category: Handball Equipment
Product Code:
In regulation dimensions: width 3 m, height 2 m, top depth 0.80 m, bottom depth 1 m. Mesh size 10 cm.
The net is made from high tenacity polypropylene (PP). The net measures a width of 3.0 m and a height of 2.0 m. The projection of the net is 0.8 m on top and 1.0 m on the bottom. The mesh width of the net is 100 mm. The net is available in 3 and 4 mm diameter. The net is available in two colours (green and white). On request the net is also available in assorted colours.
Our handball goal nets fulfil the requirements of DIN EN 749!
70220 Handball goal net, white color. PP 3 mm
70230 Handball Goal Net, black color. PP 3 mm
70240 Handball Goal Net, green color. PP 3 mm
70250 Handball goal net, white color. PP 4 mm
70260 Handball Goal Net, black color. PP 4 mm
70270 Handball Goal Net, green color. PP 4 mm
70280 Handball Goal Net, white color. PP 5 mm
70290 Handball Goal Net, green color. PP 5 mm
70300 Handball Goal Net, blue color. PP 5 mm
70310 Handball Goal Net, red color. PP 5 mm
70320 Handball Goal Net, yellow color. PP 5 mm