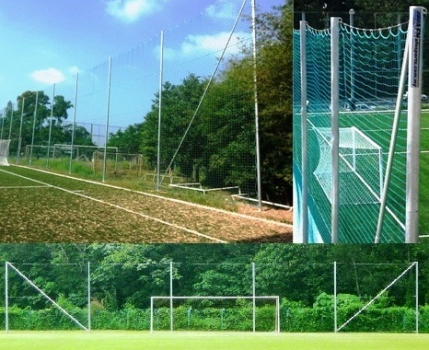 Category: Soccer & Rugby Equipment
Product Code:
The backstop system in ground socket is a permanently fixed system. The post are fixed to the ground with sockets. The posts are made from an extreme robust special aluminium profile. It measures a cross section of 120x100 mm and a thickness of 2.5 mm. The lower section of the posts is further reinforced with an internal bracket. The two end posts are secured via crossbars. The posts are available in 4, 5, 6, 7 and 8m of height.
The backstop is equipped with a UV protected 4 mm PP net. It has a mesh width of 100 mm. The net is fixed to three stainless steel wires which are attached to the posts.
1 set consists of (25 m)
6 aluminium posts incl. reinforcement in the lower section
6 ground sockets
2 cross bars
3 stainless steel wires incl. turnbuckle
1 net
On request the backstop post system is available in other dimensions.