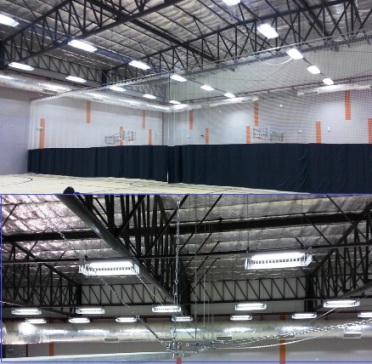 Category: Sports Netting & Divider Curtain
Product Code:
Manual Divider Curtain "Walk Draw" Mixed Net & Canvas PVC
AFN Sports divider curtain is designed and manufactured to divide the indoor sports facility into more than one court in order to hold multiple sport activities at the same time without interference. As it is a product of great use in facilities, it has been designed to work in a very simple manner without the need for complex maintenance.
The manual curtain is manufactured to be hung and rolled through a rail. The guide rail is made from special aluminium profile; the roller (every 30 cm) is made from nylon and specially designed for long lifetime.
Our net is made from high tenacity polypropylene 3 mm, mesh 45 mm, knotless.
Canvas made form PVC 650 gr/sqm.
Fireproof on request and available in different colours.
Subject to technical alterations