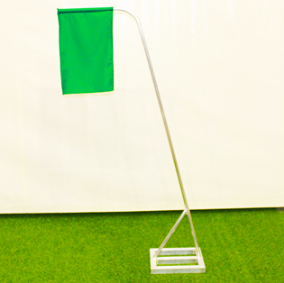 Category: Track & Field Equipment
Product Code: 11700
Made from special aluminium profile. The green flag (dimension 300x400 mm) is installed on an aluminium post. Total height 1.40 m.
Subject to technical alterations
IAAF Rule 163.5
The breakline for 800m described in Rule 163.5 indicates were the athletes in the outer group in 2000m and 10,000m may join the runners using regular start. The track shall be marked at the entrance to the finish straight for group starts in 1000m, 3000m and 5000m to indicate where athletes starting in the outer group may join the runners using the regular start. This mark may be a 5cmx5cm mark on the line between lanes 4 and 5 (lanes 3 & 4 in a six-lane track) on which a cone or flag is placed until the two groups converge.