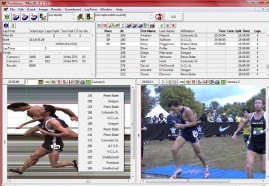 Category: Lynx Complete Sports Timing Packages
Product Code: LY-CHAMPIONSHIP PACKAGE
WA (IAAF)- APPROVED 2-CAMERA TIMING SYSTEM (1 PHOTO FINISH + 1 HEAD-ON VIDEO CAMERA), REMOTE CONTROLS, LED DISPLAY, & WIND GAUGE
The CHAMPIONSHIP PACKAGE is an IAAF-approved athletics timing system that includes the full-color EtherLynx Vision photo-finish camera and a time synchronized IdentiLynx video camera. This package includes all the components of the Competition Elite Package (like remote camera/lens capabilities and RadioLynx wireless start) as well as an IdentiLynx camera, ACM software plugin, 9-digit LED display, and IAAF-approved wind gauge. Plus all the components can be controlled directly from the FinishLynx timing software.
COMPONENTS
 Camera: EtherLynx Vision, 2,000 frames/second,
full color images, timer-enabled, fully upgradeable
 EasyAlign Full-Frame Video Alignment Mode
 High-Resolution Option (2,000 fps x 1280 pixels of
image height)
 C-Mount f1.2, 8-48mm Motorized Zoom Lens
 IdentiLynx Full-Frame Video Camera (30 fps, 720p)
 Ultrasonic Wind Gauge (IAAF compliant)
 9-Digit Alphanumeric LED Display (with tripod, bag
and charger)
 Remote Lens
 Remote Camera Positioner
 RadioLynx Wireless Start (Receiver & Transmitter)
 All-inclusive Power, Ethernet, & Start Cable Set
 Tripod & Mounting Hardware for Precision Adjustment
 Built-in Interface to Scoreboards and Wind Gauges
 Full-Access to Lynx Technical Support
 1-Year Renewable Warranty
 FinishLynx32 Multi-Language* Photo Finish Software
 Automatic Capture Mode (ACM) Plugin
 RadioLynx Wireless Start Plugin
 LynxPad Multi-Language Meet Management Software
From AFN SPORTS available In SEA Region only.